Supernatural - Castiel - The Noose
Mixer:
wand3rlust
Fandom: CW's Supernatural
Subject: Castiel
Title: The Noose
Tracks: 13
Length: 1 hr
Warnings: Spoilers through 7x01 and speculation galore. Also at least half the songs are hardcore metal song, so lots of screaming and "naughty" words. Though I did try to keep it as mellow as possible.

Features: Tool, Machine Head, Audioslave, Poison the Well, A Perfect Circle, and more.


RACHEL But you beat the Archangels, Castiel. God brought you back. He chose you, Cas...To lead us.
CASTIEL No. No one leads us anymore. We're all free to make our own choices and to choose our own fates.
RACHEL What does God want?
CASTIEL God wants you to have freedom.
RACHEL But what does he want us to do with it?
CASTIEL If I knew then what I know now...I might have said..."It's simple. Freedom is a length of rope. God wants you to hang yourself with it."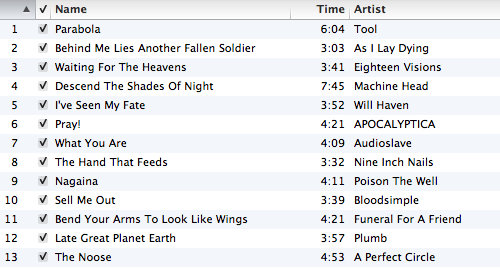 summary
I've mentioned before how much I love Castiel character and that hasn't changed now that the show has deemed him villian. (Or so it would seem.) The complete lack of respect from Dean and Sam last year was horrendous. (I do blame this fully on the writers BTW) And now with no one to turn to Cas has been consumed and corrupted with power. And as seen in the preview clip of 7x01 we see he is bitter and jaded.
Once you were my favourite pets,
he say,
before you turned and bit me."

Unfortunately, I have absolutely no hope of there being a redemption story at this point. From the clip I saw they fully intend to make Cas a full on villain ripe for the killing. But... if I had my way at the very least I'd hope for some sort of honorable death. He did, after all, save the world from the apocalypse. TWICE and died TWICE.

I'm not going to do commentary on each individual song, but I will make a few random comments on a couple. Otherwise, I fear it would turn into a huge rant fest. But this mix is to show how alone Cas has become. How Dean and Sam treated him like he was their puppet at their beck and call whenever they wished and how when the time came to pay him the trust and respect he's ALWAYS shown them they couldn't even bother to see his side of things.

DISCLAIMER: No copyright infringement is intended. FYI: The government says music should be deleted off your computer after 24-48 hours. The mix template was found at
halflistening
tracks, lyrics & commentary

Parabola - by Tool
This body / This body holding me / Be my reminder here that / I am not alone in / This body / This body holding me / Feeling eternal, all this / Pain is an illusion / Swirling round with this familiar parable / Spinning, weaving round each new experience / Recognize this as a holy gift and / Celebrate this chance to be / Alive and breathing

**I see this as a song about how is is now transformed after consuming all the souls of purgatory.**

Behind Me Lies Another Fallen Soldier - by As I Lay Dying
how can i stand here before you / when i begin to steal what only belongs to you / i am able to bring you nothing that isn't already yours / i am so ashamed of what i ever called my own / take what i have, take these broken remains / what can i give you that you don't already deserve / you laid down Your life when i refused to give mine

**I see this as a song about how he took Balthazar's grace. This is speculation of course, but we didn't see a wing shot and it's a fairly common theory.**

Waiting For The Heavens - by Eighteen Visions
God help me save tomorrow from fear of darkest hour / this world in pain, it's time to rise again / this life is so called murder / staring at angry horror / don't want to live today when all I feel is pain / and I pray that I would fall apart / I know this world's the enemy / you don't know what it's like and I don't think you even care / you don't know what it's like and you've never ever even been there

**This is more a song about right before his transformation. His uncertainty and begging his father for guidance, though he receives no answer.**

Descend The Shades Of Night - by Machine Head
Ashen clouds obscure my brain / Doubts begin to turn to shame / Insecureness tears at bliss / I hate me for this weakness / Faith drives me to carry on / And take the road less travelled on / Resentment swallowed means to drown / The poison down / The shades of night descend / Descend the shades of night / Death shines her golden light / Across a blackened sky / All our hate is a product of a world... / We created

**Castiel does what he must to save the earth, even if it means losing everyone important to him.**

I've Seen My Fate - by Will Haven
blood of wounds / fill the streets with her tears / sorrow, saturate dry wells / my sicken flesh, / carries our burden / my cross to bare, / for my sins / crown me, i am godlike / now i will reign


Pray! - by APOCALYPTICA
[INSTRUMENTAL]


What You Are - by Audioslave
And when you wanted me / I came to you / And when you wanted someone else / I withdrew / And when you asked for light / I set myself on fire / And if I go far away I know / You'll find another slave / Cause now I'm free from what you want / Now I'm free from what you need / Now I'm free from what you are

**Cas did everything for the Winchesters. Now as God he feels he is now free from his "emotional" attachment to them**

The Hand That Feeds - by Nine Inch Nails
just how deep do you believe? / will you bite the hand that feeds? / will you chew until it bleeds? / can you get up off your knees? / are you brave enough to see? / do you want to change it? / what if this whole crusade's / a charade / and behind it all there's a price to be paid / for the blood / on which we dine / justified in the name of the holy and the divine


Nagaina - by Poison The Well
I have a big secret / Out of a shroud prison / This big horrible mess / Hang to dry in motherland / Sun tinted humidity / Releasing my confession / I am a snake / I let my children let my children go / Our lives are swamps / We are the swamp / Can you take it / Can't you just get rid of it all / I am a snake / I let my children let them go

**I believe Cas will still allow Free Will to exist on earth, but he will turn it on it's head and if they choose wrong he will punish them.

Sell Me Out - by Bloodsimple
Never go back, never go back, never go back / Never look back, never look back.. AGAIN / This is the last time you try to / Ease my mind, for all the reasons you'd sell me out / I will be you garden / Plant your bones / I will be your sovereign kingdom.

**Spoilers indicate Dean will summon Death to help him stop Cas. I believe Cas will see this as a unforgivable betrayal and attempt to rise up against him which Cas very specifically warned the Winchesters not to do. Sadly I feel it will be the start of the downfall of Cas's story.**

Bend Your Arms To Look Like Wings - by Funeral For A Friend
Distance makes my heart grow colder /Distance makes my heart grow older / Just enough to cut the air from your lungs / As the sun sets (we push and pull apart) / On battlefields (enough for this to end) / I hope you can save me (from ourselves) / I hope you can save us from ourselves / Denial in the arms of our saviours / And my heart is torn to pieces / Just enough to cut the air from your lungs / And paper cuts and bloody hands / In the middle they would meet

**At this point I fear Cas will either be hunted or he will flee to Heaven or hiding. He will be alone. :( **

Late Great Planet Earth - by Plumb
The world ends without a tragedy / Time is melting into history / The sky is falling / Voices crying out in desperation / Here them calling / Everybody, save yourself / The world plays its angered symphony / Lost inside eternal mystery / Doesn't matter what you say / Doesn't matter what you do / We all end up this way / There's one thing left to save you

**Now there will be no God, no Lucifer, everyone is fending for themselves and everything will be chaos. If spoilers are to be believed then the show will also start having more heavily featured polytheistic undertones.**

The Noose - A Perfect Circle
With heaven's help / You cast your demons out / And not to pull your halo down / Around your neck and tug you off your cloud / But I'm more than just a little curious / How you're planning to go about / Making your amends to the dead / To the dead / Recall the deeds as if / They're all someone else's / Atrocious stories / Now you stand reborn before us all / So glad to see you well
**I'm assuming at some point Cas will break and release the souls and demons of Purgatory. Whether that's voluntarily or not is anyone's guess at this point. And this will either be the death of Cas or it will be the point he hides. I don't see the show keeping him on and it breaks my heart. Also I picked this song because the title fits TOO perfectly with Cas's "Freedom is a length of Rope. God wants you to hang yourself with it." comment.**




preview/download
ZIP file(here 84 MB)TIP:
To sample a song just click on the song title in the box and it will play.
extras
+ x-posted @
fanmix
+You can check out more of my fanmixes
HERE
+ If you cross-post or recing please link back to this post.
+ If download links expire, please let me know
+As always, comments are much appreciated. ♥