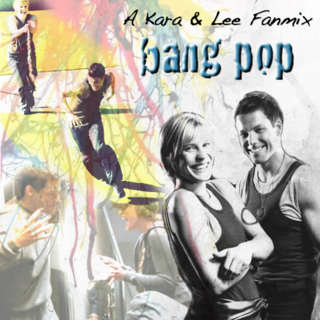 BSG - Kara Thrace/Lee Adama - Bang Pop
Mixer:
wand3rlust
Fandom: Sci-Fi's Battlestar Galactica
Subject: Kara Thrace/Lee Adama
Title: BANG POP
Tracks: 14
Length: 47:07
Warnings: No spoilers
Features: Free Energy, Paramore, Florence+The Machine, Neon Trees, and more.


summary
Woo-hoo! A happy/energetic pilot mix! So, most these song fit pilots lyrically, but a couple are just thrown in for the mood of the mix. Also, a lot of these songs wouldn't be here if it weren't for all the awesome and amazing Academy!Pilots fics out there. Pilots causing mischief and trouble without all the angst weighing down on them. A couple of the songs are angsty lyrically but the song itself is actually upbeat sounding, so I included those too.

Lucky for you, I won't really go into long-winded detail on each individual song like I usually do. However I will explain a couple since I sometimes tend to relate certain songs to pilots because it fits an idea of them or story in my mind I have about them. Which oc course wouldn't make much sense to anyone else without explanation.
You can use the playbox below to listen to the mix before you download it. Enjoy! This is a fun one. :)

DISCLAIMER: No copyright infringement is intended. All music shared here has been legally purchased by me personally, so please feel free to sample the songs and if you like them please support the artist and purchase them as well.

tracks, lyrics & commentary

01. Center of Attention - Guster (♪play sample)
One of us won't last the night / between you and me / it's no surprise / There's two of us / both can't be right / neither will move 'til it's over / I'm the center of attention / and the wall's inside my head / and no one will ever know it if I keep my mouth shut tight
This is one people might scratch their heads at, but I see this as a song about pilots competing for Adama's attention and being brats to each other. :)

02. CrushCrushCrush - Paramore (♪play sample)
If you wanna play it like a game / Well come on come on let's play / 'Cause I'd rather waste my life pretending than have to forget you for one whole minute

03. Sex with an X - The Vaselines (♪play sample)
Save me save me / temptations breaking / I gave in to all you had / I confess / to all the mess / when darkness fell I was bad

04. xFire - The Bens (♪play sample)
We're famous / Contagious / We make outrageous claims / Public enemy / The royal family / Game over / Pink champagne / Let there be no doubt about it / You are dancing in my crossfire / Let there be no doubt about it / You are dancing in my crossfire
This song is SOOO fun, makes me think of pilots being silly at The Academy.

05. Animal - Neon Trees (♪play sample)
Here we go again / I kinda wanna be more than friends / So take it easy on me / I'm afraid you're never satisfied / Here we go again / We're sick like animals we play pretend / You're just a cannibal / and I'm afraid I won't get out alive / No I won't sleep tonight
One of my favorite songs last year. Reminds me a lot of pilots being playful and flirting while treading on that unsure of line of if they should make a move or not.

06. Bang Pop - Free Energy (♪play sample)
Now I was super messed up / Like it would never end / Floatin' over the black top / Without a single friend / Down came a light beam / Right through my breaking heart / Message from the galaxy / That's how it's gotta start / Bang bang pop pop / when does this searching stop?
Another favorite song last year. Obviously the song is really about drugs, but the lovely thing about using metaphors in songs is you can translate it into another meaning. Reminds me of pilots being pilots on their search for earth.

07. Kiss with a Fist - Florence + The Machine (♪play sample)
You hit me once / I hit you back / You gave a kick / I gave a slap / You smashed a plate over my head / Then I set fire to our bed
I know, most of you already have this song, but I couldn't NOT include it in a fun energetic mix like this. :)

08. Stellar - Incubus (♪play sample)
Meet me in outer space / We could spend the night / Watch the earth come up / I've grown tire of that place / Won't you come with me / We could start again / How do you do it / Make me feel like I do / How do you do it / It's better than I ever knew
Another song most you probably have for them, but again it fits here with these songs. :)

09. Where Does the Good Go - Tegan & Sara (♪play sample)
Where do you go / with your broken heart in tow / What do you do / with the left over you / And how do you know / when to let go / Where does the good go / Where does the good go
This one's a bit angsty, but has a slightly upbeat feel to it oddly enough.

10. Under the Gun - The Killers (♪play sample)
She's got her halo and wings / Hidden under his eyes / But she's an angel for sure / She just can't stop telling lies / But it's too late for his love / Already caught in a trap /His angel's kiss was a joke / And she is not coming back / Because heaven sends / and heaven takes / Crashing cars in his brain /Keep him tied up to a dream /And only she can set him free / And then he says to me
Again with the angst filled lyrics, but very upbeat sounding song. Obviously makes me think of Angel!Kara.

11. Burn it Down - Awolnation (♪play sample)
If you're feeling like I feel then run your life like it's a dance floor /and if you need a little heat in your face that's what I'm here for /if you're chilling in the dark and you're looking through a telescope / you will see me sipping on a soul of a new hope
I'm kinda in love with this band at the moment. This is one of those that's not lyrically associated with pilots, more that I just feel like the song itself is something they might listen to, to get pumped up. Or even just makes me think of them flying and competing against each other.

12. Mercy - Duffy (♪play sample)
I love you / But I gotta stay true / My morals got me on my knees / I'm begging please / Stop playing games / I don't know what this is / But you got me good / Just like you knew you would / I don't know what you do / But you do it well / I'm under your spell
This song fits Pilots pretty well during the QoD arc, but is way too pop sounding to include in any mix other than something like this meant to be peppy and fun.

13. Air Traffic Control - Louis XIV (♪play sample)
Air Traffic Control / hold on I'm coming in / Air Traffic Control / hold on I'm coming in /Air Traffic Control / I've been gone, Ive been up away from home. / now my gear is down, I'm circling round, / and I am coming in.
This has been on my pilots playlist almost from day one but I've not included it in a mix up until now and I can't remember why. It's a slower song but still fits in.

14. Constellations - Jack Johnson (♪play sample)
And it was just another night / With a sunset and a moonrise / Not too far behind to give us just enough light / To lay down underneath the stars / We listened to Papa's translations / Of the stories across the sky / We drew our own constellations
This song makes me think of Academy pilots lounging on the grass at night watching the stars and just makes me grin. :)


preview/download
extras
+As always, comments are
much
appreciated. ♥

+You can check out more of my fanmixes
HERE
+ If you cross-post or rec this mix please kindly link back to this post.
+ If download links expire, feel free to contact me.
+x-posted @
fanmix
,
bsg_mix
beyond_insane
+ Mix template was found at
halflistening